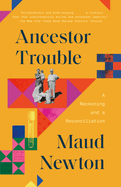 Ancestor Trouble: A Reckoning and a Reconciliation by Maud Newton
Regular price $18.99 Sale
Random House Trade
Maud Newton's ancestors have fascinated her since she was a girl. Her mother's father was said to have married thirteen times. Her mother's grandfather killed a man with a hay hook. Mental illness and religious fanaticism percolated Maud's maternal lines back to an ancestor accused of being a witch in Puritan-era Massachusetts.
Newton's family inspired in her a desire to understand family patterns: what we are destined to replicate and what we can leave behind. She set out to research her genealogy--her grandfather's marriages, the accused witch, her ancestors' roles in slavery and other harms. Her journey took her into the realms of genetics, epigenetics, and debates over intergenerational trauma. She mulled over modernity's dismissal of ancestors along with psychoanalytic and spiritual traditions that center them.
Searching and inspiring, Ancestor Trouble is one writer's attempt to use genealogy--a once-niche hobby that has grown into a multi-billion-dollar industry--to make peace with the secrets and contradictions of her family's past and face its reverberations in the present, and to argue for the transformational possibilities that reckoning with our ancestors offers all of us.


 Maud Newton has written for The New York Times Magazine, Harper's, The New York Times Book Review, and Oxford American. She grew up in Miami and graduated from the University of Florida with degrees in English and law.