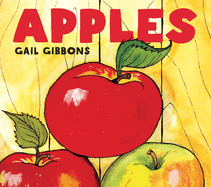 Apples by Gail Gibbons
From Holiday House:
Juice, jelly, cider, pie, or straight off the tree...apples are delicious!
 
Discover the well-loved tradition of growing and picking apples - a fruit that has been in existence for about two million years. Explore the history of the apple but also the way that families and farmers grow and care for apple trees today, from planting to selling, to turning them into delicious treats and using them for classic games like "bobbing for apples" on Halloween.

Detailed pictures introduce readers to the botany of apples too. Experience colorful depictions of apple blossom pollination, the growth process of apples, and several panels of the different kinds of apples around the world. Learn how to plant and care for your own apple tree with step by step instructions. Then use the apple pie recipe also included to celebrate a job well done! 

Author-Illustrator Gail Gibbons explores anything and everything there is to know about the world as young readers experience it, including the ever-present, ever-refreshing apple.