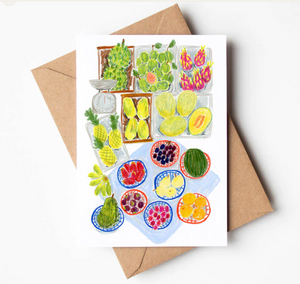 Asian Fruit Market Illustrated Greeting Card from Bert and Roxy
From Bert and Roxy:
Capturing all the brightly coloured sweet smelling (and some not so sweet smelling…) fruits into this illustrated greeting card. The stunning array of tropical fruits piled high in boxes and presented in little plastic baskets will take you back to a typical South East Asian fruit market. Can you spot your favourite fruit?
Unique Eco-Friendly Art Card
This card is a digital reproduction of an original hand drawn illustration. The artwork is then professionally printed, by eco-friendly printers, onto luxury FSC certified recycled mixed card - ensuring a high quality finish that is also environmentally friendly. The card is paired with a 100% recycled brown paper envelope, making this a unique, thoughtful and sustainable card to write your special message to your loved ones. 
This card can be used for a variety of occasions, such as birthdays, thank you notes or even as a thoughtful travel souvenir to brighten up someone's day. Afterwards, it can even be used as a keepsake card and displayed in your living space. This illustrated art card is a great way to give a unique card, whilst supporting a small business and making a positive impact on the environment, 
- Suitable for many occasions
- Designed and made in the UK
- Printed by eco-conscious printers
- Luxury recycled mix card from GF Smith