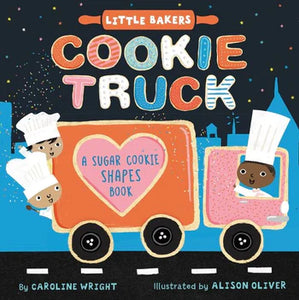 Cookie Truck: A Sugar Cookie Shapes Book by Caroline Wright
From Harper Festival:
Learn each shape and how to bake with this cookie-and-truck-themed shapes board book that features a kid-friendly recipe!
Baking cookies together is a special treat that makes learning each shape especially sweet!
Little bakers and vehicle lovers everywhere will be inspired by this rhythmic story about a truck made out of sugar cookies of all shapes that will drive them right to the kitchen to join adults in measuring, mixing, decorating, and tasting! Featuring catchy, rhyming text, irresistible art, and a kid-friendly recipe for homemade sugar cookies, this sturdy board book is perfect for story time and snack time.