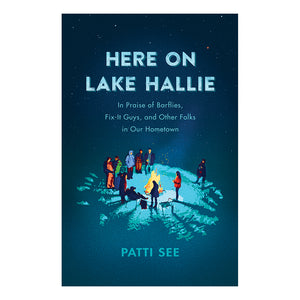 Here on Lake Hallie: In Praise of Barflies, Fix-It Guys, and Other Folks in Our Hometown by Patti See
Regular price $20.00 Sale
From Wisconsin Historical Society Press:
Essays on barflies, fix-it guys, and other eccentric small-town folks come together in a humorous and touching collection that shares the heart of a Midwestern lake community. Set against a backdrop of supper clubs, ice fishing contests, and cribbage games, newspaper columnist Patti See's essays combine childhood memories and midlife concerns to showcase the quirky charms of life on Lake Hallie in the Chippewa Valley.
Many of these brief essays—on everything from pontoon rides and thrift sales to supporting a son in the military and a parent with Alzheimer's—were originally published in the Sawdust Stories column of the Eau Claire Leader-Telegram. Together, they demonstrate a deep appreciation for country living and affirm that, above all else, it's friends, family, and other hometown folks who provide us with a lifelong sense of belonging.