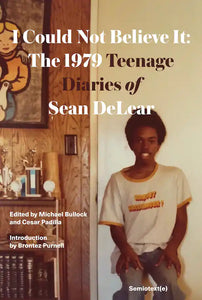 I Could Not Believe It: The 1979 Diaries of Sean DeLear edited by Michael Bullock and Cesar Padilla
Regular price $16.95 Sale
From Semiotext(e):
A remarkable time capsule of Simi Valley, 1979, written before the author would become one of LA's most influential artists of subsequent decades.
When Sean DeLear died prematurely in Vienna in 2017, his friends discovered—among other treasures—an extensive diary kept at the age of fourteen. Still living with his Christian parents in the notoriously racist Los Angeles suburb of Simi Valley, Sean wrote almost every day about crushes and hustling, waterbeds, blackmail, Donna Summer, gloryholes, racism, and shoplifting gay porn.
DeLear would go on to become the frontman for the Los Angeles punk/powerpop band Glue. He was a punk musician, visual artist, intercontinental scenester, video vixen, party host, marijuana farmer, and sometime-collaborator of artists such as Kembra Pfahler and Vaginal Davis.
DeLear's forgotten diaries capture a moment in Los Angeles's underground and queer history when, as his friend the writer Cesar Padilla notes, "It wasn't cool at all to be trans, gay, queer or whatever. Those words weren't even in the vocabulary." I Could Not Believe It, Padilla continues, "is a raw fearless innocent gay Black kid's journey coming out into life at an incredible pre-AIDS period. It's not cognizant of being literature. It's as naïve and forthcoming as it gets. It wasn't written with the desire to be published so Sean didn't hold back. Sean's goal was to be true to himself."