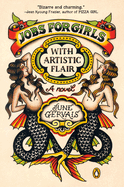 Jobs for Girls with Artistic Flair by June Gervais
Regular price $18.00 Sale
Penguin Books
"I adored this novel. It made me laugh out loud, and it made me really, really want a tattoo." --Clare Pooley, New York Times bestselling author of The Authenticity Project
An uplifting, feminist coming-of-age love story about a young woman who dreams of becoming a tattoo artist, and living life on her own terms
Introvert Gina Mulley is determined to become a tattoo artist, and to find somewhere she belongs in her conventional Long Island town. But this is 1985, when tattooing is still a gritty, male-dominated fringe culture, and Gina's funky flash is not exactly mainstream tattoo fare. The good news is that her older brother Dominic owns a tattoo shop, and he reluctantly agrees to train her.
Gina has a year to prove herself, but her world is turned upside down when a mysterious psychic and his striking assistant, Anna, arrive on the scene. With Anna's help, Gina recognizes that the only way she has a shot at becoming a professional tattoo artist is to embrace her quirkiness both in her art and her life.
The tattoo shop is rocked by a crisis just as Gina finds herself falling in love with Anna. Dominic gives Gina an ultimatum, and she's faced with an impossible choice: Is the romance and newfound independence she's found worth sacrificing her dreams? Or can she find a way to have it all?


June Gervais grew up on the south shore of Long Island and earned her MFA in writing and literature at Bennington College. Her many jobs have included shelving library books and taking classified ads, grassroots activism and graphic design, art direction and teaching. Jobs for Girls with Artistic Flair is her debut novel.