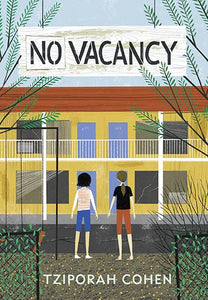 No Vacancy by Tziporah Cohen
Regular price $16.95 $14.41 Sale
From Groundwood Books:
With the help of her Catholic friend, an eleven-year-old Jewish girl creates a provocative local tourist attraction to save her family's failing motel.
Buying and moving into the run-down Jewel Motor Inn in upstate New York wasn't eleven-year-old Miriam Brockman's dream, but at least it's an adventure. Miriam befriends Kate, whose grandmother owns the diner next door, and finds comfort in the company of Maria, the motel's housekeeper, and her Uncle Mordy, who comes to help out for the summer. She spends her free time helping Kate's grandmother make her famous grape pies and begins to face her fears by taking swimming lessons in the motel's pool.
But when it becomes clear that only a miracle is going to save the Jewel from bankruptcy, Jewish Miriam and Catholic Kate decide to create their own. Otherwise, the No Vacancy sign will come down for good, and Miriam will lose the life she's worked so hard to build.