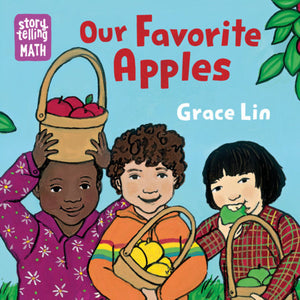 Our Favorite Apples by Grace Lin
From Charlesbridge Press
Caldecott Honor winner Grace Lin celebrates math for every kid, everywhere!
Manny, Olivia, and Mei go apple picking and sort their red, green, and yellow apples by color. But then they find an apple that's all three colors. What should they do? A playful exploration of sorting, classifying, and friendship.

Storytelling Math celebrates children using math in their daily adventures as they play, build, and discover the world around them. Joyful stories and hands-on activities make it easy for kids and their grown-ups to explore everyday math together. Developed in collaboration with math experts at STEM education nonprofit TERC, under a grant from the Heising-Simons Foundation.