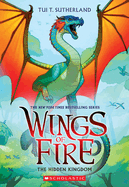 The Hidden Kingdom (Wings of Fire #3) by Tui T Sutherland
From Scholastic Inc
The #1 New York Times and USA Today bestselling Wings of Fire series flies to another epic adventure, this time in the secretive Rainforest Kingdom, where only the quickest and cleverest dragonets survive.
Deep in the rain forest, danger awaits . . .
Glory the knows that the dragon world is wrong about her being "a lazy RainWing." Maybe she wasn't meant to be one of the dragonets of destiny, but Glory is sharp and her venom is deadly . . . even if it's also still a secret.
So when the dragonets seek shelter in the rain forest, Glory is devastated to find that the treetops are full of RainWings who nap all day and know nothing of the rest of Pyrrhia. Worst of all, they don't realize -- or care -- that RainWings are going missing from their beautiful forest. 
But Glory and the dragonets are determined to find the missing dragons, even if it drags the peaceful RainWing kingdom where they never wanted to be -- into the middle of the war.