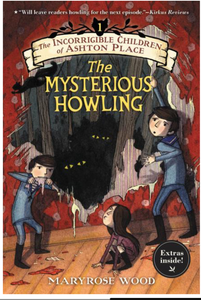 The Incorrigible Children of Ashton Place: Book I: The Mysterious Howling by Maryrose Wood
Balzer&Bray/ Harperteen
he first book in the Incorrigible Children of Ashton Place--the acclaimed and hilarious Victorian mystery series by Maryrose Wood, perfect for fans of Lemony Snicket and Trenton Lee Stewart--has a brand-new look.
Discovered in the forest of Ashton Place, the Incorrigibles are no ordinary children. Luckily, Miss Penelope Lumley is no ordinary governess. A recent graduate of the Swanburne Academy for Poor Bright Females, Penelope embraces the challenge of her new position. Though she is eager to instruct the children in Latin verbs and the proper use of globes, first she must eliminate their canine tendencies.
But mysteries abound at Ashton Place: Who are these three wild creatures? Why does Old Timothy, the coachman, lurk around every corner? Will Penelope be able to civilize the Incorrigibles in time for Lady Constance's holiday ball? And what on earth is a schottische?