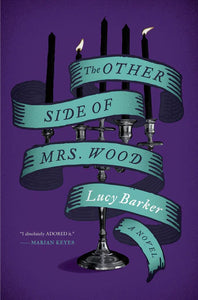 The Other Side of Mrs. Wood by Lucy Barker
Regular price $30.00 Sale
From Harper:
For fans of The Lost Apothecary or the Mermaid and Mrs Hancock, a deliciously atmospheric historical novel about the rivalry between two female mediums during Victorian London's obsession with Spiritualism.
Mrs. Violet Wood is London's premier medium, a woman of supreme ambition whose unique abilities have earned her the admiration and trust of London's elite. Mrs. Wood is indeed a clever and gifted seer—her skill is unmatched in predicting exactly what her wealthy patrons want to hear from the beyond.
But times are changing. First, a nosey newspaperman has begun working to expose false mediums across London. Many of Mrs. Wood's friends—and, yes, some of her foes—have fallen to his merciless accusations. Worse yet, though Mrs. Wood's monthly séance tables are still packed, she's noticed that it's been harder to snare coveted new patrons. There are rumors from America of mediums materializing full spirits. . . . How long will her audiences be content with quivering tables and candle theatrics?
Then, at one of Mrs Wood's routine gatherings, she hears that most horrifying of sounds—a yawn. When a sweet girl with an uncanny talent for the craft turns up at her door, Mrs. Wood decides that a protégé will be just the thing to spice up her brand. But is Emmie Finch indeed the naïve ingenue she appears? Or has Mrs. Wood's own downfall come knocking at last?