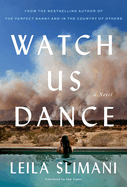 Watch us Dance by Leila Slimani
Regular price $28.00 Sale
The rebellions within an interracial family play out against the countercultural rebellions of the 1960s in this sexy, stylish, sophisticated new novel by the award-winning, internationally bestselling author of 
The Perfect Nanny 
and 
In the Country of Others
.
It's the 1960s, and the air is electric. On the cusp of adulthood, two biracial siblings--their father is Moroccan, their mother French--search for their place in a newly independent Morocco brimming with both possibility and peril.
Aicha, strong-willed and strait-laced, aspires to become a doctor and spends most of her time studying. Her free-spirited younger brother, Selim, falls in with the American and European hippies descending en masse on Tangier and Casablanca and Essaouira to do drugs and practice free love. Children of the revolution, now dreaming of a radiant future and experiencing the ecstatic first flush of desire against the backdrop of a country intoxicated by its own sense of freedom, Aicha and Selim soon find the ideals of their youth colliding with the realities of racism and corruption, as Moroccans once united against their colonizer make a grab for wealth and influence, and the national spirit of communal celebration gives way to elites telling everyone else to "watch us dance."
In her latest international bestseller, Leila Slimani draws on her family's inspiring story to deliver a tense, provocative, page-turning novel about one family's, and one country's, coming of age in the face of the seductions of power and privilege.
Leila Slimani is the bestselling author of The Perfect Nanny, one of The New York Times Book Review's 10 Best Books of 2018, for which she became the first Moroccan woman to win France's most prestigious literary prize, the Goncourt . Her other books include Adèle, Sex and Lies, and the #1 international bestsellers In the Country of Others and Watch Us Dance, which are the first and second parts of a trilogy of novels based on her family's roots in revolutionary Morocco. Slimani is French president Emmanuel Macron's personal representative for the promotion of the French language and culture, and is the chair of the jury for the 2023 International Booker Prize. She was ranked #2 on Vanity Fair France's annual list of the Fifty Most Influential French People in the World. Born in Rabat, Morocco, in 1981, she divides her time between France and Portugal.
Sam Taylor is the award-winning translator of more than sixty books from French, including all of Leila Slimani's fiction.